The Niagara real estate market is HOT and the dilemma facing homeowners all over the region right now is: To sell, or not to sell. With houses going for well above listing price and a steady buyer demand, you might feel like now is your chance to cash in … but is that really the best move for you and your family?
Shawn DeLaat, team lead here at Davids & DeLaat breaks it down for us in the latest State of Real Estate in Niagara. Keep reading to find out more or jump to the video below.
Taking Advantage Of This Market
January began with few homes for sale, and thanks to a strong buyer demand, this created some incredibly life changing experiences for sellers out there. Many homes were selling for well over the listing price, allowing Niagara residents to cash in and retire, move out of province to live mortgage free or simply just relocate to other areas of Niagara.
As February came around the word on the street was: "the market is hot!" While inventory was still rather low, we saw more inventory for sale in February 2022 than any other February in the past 15 years!
Homes continued to sell well over asking price and the "list it low, sell it high" strategy seemed to be a continued trend, creating a lot of confusion in the market. This is where real estate agents list a home under its market value, and hold offers until an "offer day", presenting them all to the seller all at one time. When inventory is low, and for particularly desirable properties, this is a popular strategy, encouraging those higher offers.
Here's what February looked like: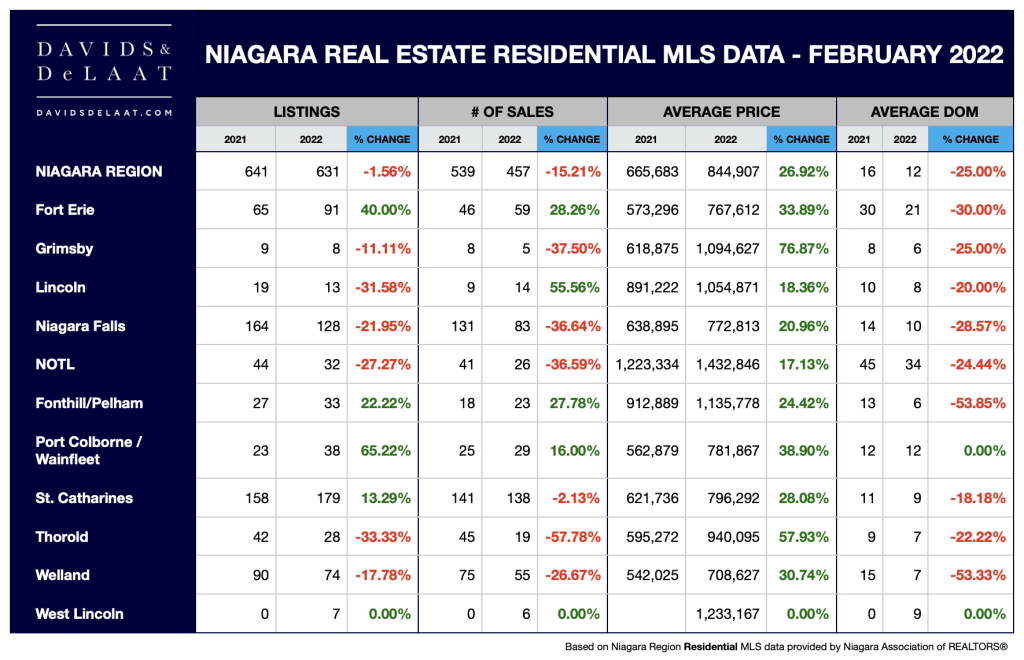 A Shift in The Niagara Real Estate Market
Spring is typically a popular time to list a home for sale because the weather is milder and homes generally present better at this time.
As more houses hit the market and interest rates increase, there may be a potential shift coming, meaning that the list it low sell it high method may not be the best strategy for selling your home. Additional options for buyers means they may not be willing to offer the crazy prices we've seen recently, despite the rush to buy before interest rates go up.
There is an exception to this; if you have a house that stands out in the market, it's located in a certain area, listed at a price point and there are no other houses for sale within that range then the demand for your home will increase as it stands apart from the rest of the 'crowd.' Holding offers may be a strategy that continues to work for you.
Should I Sell My House, Or Should I Wait?
We're getting this question a lot these days and we understand how tempting it is to want to cash in when you see homes selling for $250k over the listing price – we've even helped some of our clients pull that off!
There is some concern brewing that this might be the height of the market, which is causing a lot of panic with sellers rushing to sell their homes before prices come down.
Now, we want to be perfectly clear in saying that we do not anticipate the real estate market to crash. There may be a balancing and a correction, bringing prices down slightly from the unprecedented numbers we're  seeing right now, but not a crash.
While we can't predict how high prices will go or how far they'll dip once the market corrects itself, one thing we know right now is that some people are better positioned than others to take advantage of Niagara's real estate market in its current state to change their lives.
If you or a loved one are looking to move up north or out of the province, now might be a good time to consider selling because you don't have to purchase another home at these higher prices.
If you're a senior looking to downsize by moving into a smaller home, an adult living facility, moving in with family or pivoting to a rental, now is an excellent time to sell.
Contact Davids & DeLaat and ask to speak with a registered SRES (Seniors Real Estate Specialist) who can help address your specific needs such as:
Free home evaluation & consultation
Assistance in pre-packing & cleaning to facilitate staging of your home
Rubbish removal and furniture donations
Home repairs, renovations, and maintenance indoors & outdoors
Professional cleaning services
Advice For Home Sellers Also Buying A Home In The Niagara Region
Be patient. If you need to buy a home in the Niagara Region, right this  minute may not be the right time for you to sell.  You might get that impressive offer, but selling high also means you'll be faced with buying high.
When inventory hits the market and the market stabilizes you may not get as high of an offer on the sale of your home but you also won't have to pay as high of a price on your next home. Waiting until there are more homes for sale gives you more options to choose from on your next purchase.
If you're thinking about selling your home this year, talk to a member of the Davids & DeLaat Team to determine which course of action is right for you and your family. We'll never pressure you to sell your home when it isn't in your best interest, and never rush you through the process. Our only guarantee is that we're on your side every step of the way, with your best end result as our ultimate goal. Discover the Davids & DeLaat Difference today!
The Future Outlook
The future outlook in real estate is unknown, with the recent political climate, the pandemic regulations slowly coming to an end in Ontario, and the change in interest rates there are a lot of variables to consider. We have been keeping a close eye on announcements from the Bank of Canada and Canadian Economists like RBCs Robert Hogue. As we get more information we will be sharing updates on our social media and email newsletters.
From a real estate lense, we know two things for sure:
Inventory is coming

Interest rates are going up
So, If you are looking to buy, be patient and If you're looking to sell, now might be a great time to consider that depending on your situation. To discuss your options please don't ever hesitate to contact David's & DeLaat. We're more than happy to sit down with you to chat about the market, answer any questions you might have and come up with a plan to help you get the best possible outcome from buying or selling your home in the Niagara Region.