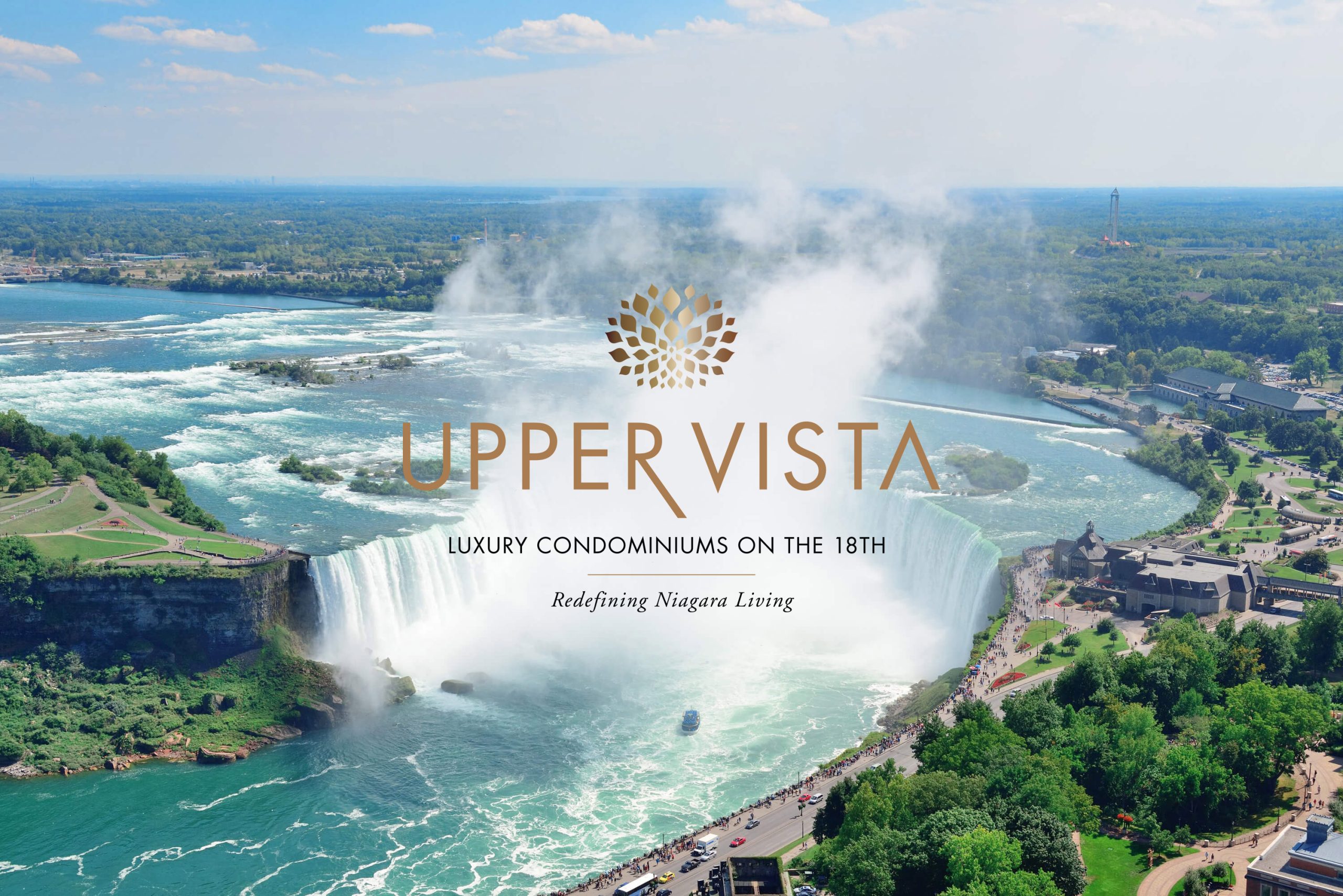 Escape To Vacation Living
Upper Vista is inspired by Frank Lloyd Wright's Fallingwater, an intriguing home designed in 1935 that extends slightly over a thirty foot waterfall. Upper Vista shares Fallingwater's symmetry with cascading water; its transparent glass casing nurtures clear views of the surrounding golf course, the Falls, and forests beyond. Robust horizontal lines and wide cornices evoke natural strength. Many residences feature palatial terraces and floor-to-ceiling windows, linking the magnificent interiors to the breathtaking landscape beyond. Even Upper Vista's colours, its warm stone base topped with fluid glass and touches of green, suggest a connection to the earth. The building appears to emerge organically from the landscape.
The Ultimate Sense of Arrival
Upper Vista's porte-cochere is a truly graceful architectural feature. This elegant carriage entrance provides year round protection from the elements, as well as a sophisticated portal that announces to the world, you've indeed arrived.
A Sophisticated Address
Upper Vista welcomes you in a lobby that features polished, classic finishes with a contemporary twist. Playful light fixtures, gleaming stone floors, an open staircase, which evokes waterfalls, and the artful zebra wood of the fireplace contribute to an aura of ultimate sophistication. Your concierge will be on hand behind an elegant Mother of Pearl desk, highlighted by a sparkling pebble-texture finish, and surrounded by ebony, high-gloss and zebra wood.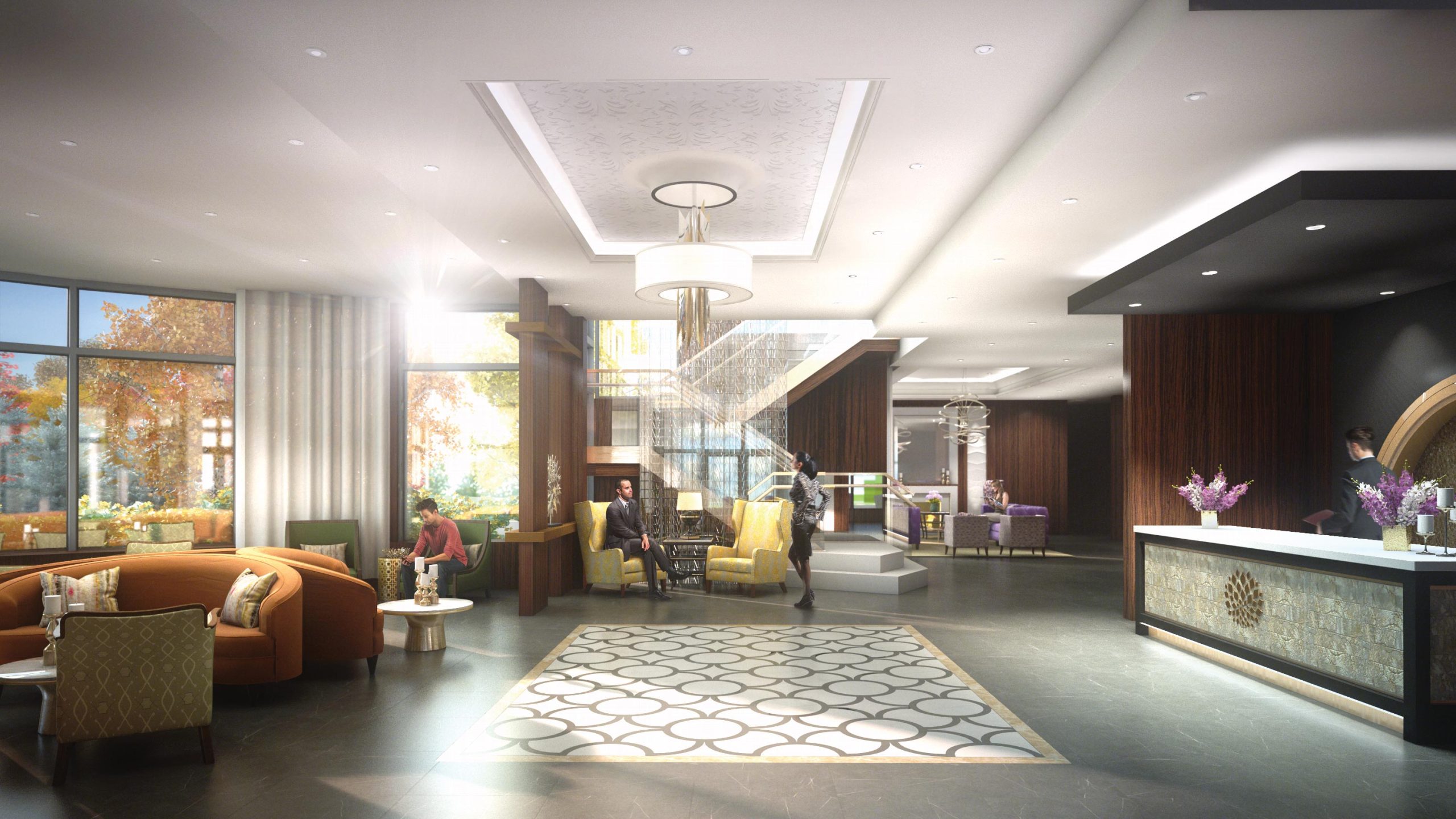 Energized Living
When you live at Upper Vista, the ultimate gym is just an elevator ride away. Work up a sweat on the state-of-the-art cardio equipment, and build muscle with the latest in weight training equipment. Stretch and tone in the private Yoga Studio. Whatever fitness choices you make, you'll do so in a beautiful and luxurious environment, with views of the surrounding golf course.
Open to the outdoors in summer weather, the glorious indoor pool at Upper Vista is the perfect place to refresh and relax. Here you can enjoy the calming sound of the waterfall as it cascades into the pool or simply chill out on a comfortable chaise lounge while you enjoy views of the grounds. A soothing hot tub offers respite from aching muscles, or the ideal place to unwind. The pool at Upper Vista is yours to enjoy year round.

Entertain In Style
Upper Vista's Party Room is the perfect venue for sophisticated entertaining. This beautifully appointed space offers casual lounge seating, a dining room, and bar. A fully-equipped catering kitchen is ideal for preparing food for large gatherings. A delightful terrace provides extended space for enjoying the views of the golf course, and doubles as the perfect spot for al fresco entertaining.
Of course you'd expect a condominium in the heart of the fabulous Niagara parks region to feature creative and memorable landscaping. Upper Vista doesn't disappoint. Thoughtful plantings surround comfortable sitting areas where you can take in the beauty around you. The landscape designers have created a lush garden setting that delightfully complements the contemporary architecture and upscale lifestyle offered at Upper Vista. Through every season, the landscaping delights. Upper Vista is as beautiful on the outside as it is on the inside.
Request Information OR Book A Showing Interested in Upper Vista - Niagara Falls? Get In Touch
"*" indicates required fields